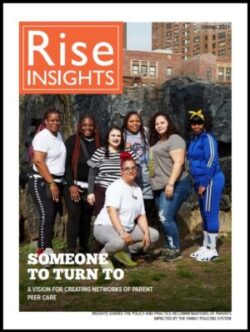 This Insights paper presents Rise's vision for a peer network of collective care by and for parents. This fall, Rise created a parent Peer Vision Team to explore building a peer care model that can strengthen families while reducing contact with the family policing system.
Nationwide and in New York City, where Rise is based, it's crucial to broadly reorganize supports for families so that accessing resources and services does not put parents at risk of state intervention in their families. Our society should target community conditions, not families. This report shares a vision for one critical component of strong communities: networks of peer support and community care.
Parents often trust other parents from their community who can share information and provide support as peers—and evaluations of credible messenger and peer support models show that they are effective. Relationship-building that respects, values and supports families getting what they need without shame, blame and coercion can better support family safety.
>> Read the report
>> Watch the recording of the Rise Peer and Community Care Model Webinar (May 26, 2021)
>> Connect with Rise about this model and get involved
>> Email us with questions at info@risemagazine.org
Replace System Interventions
Within Rise, we've worked intentionally to strengthen peer relationships, combat isolation and create conditions for mutual trust and support. The peer support approaches that knit our Rise team together can be powerful tools for building community with parents beyond Rise. We also train and work with Parent Advocates who provide valued peer support to parents in the system. However, parents need that support without the trauma of system involvement. Just as 'credible messengers' and 'violence interrupters' create safety without the violence, trauma and surveillance of police presence, parent peer support and advocacy can replace system interventions.
Our vision is that trained networks of peers with credible life experience will:
Increase the likelihood that parents in emerging crises safely get support without state intervention;
Increase the flourishing of peer relationships that reduce stress, trauma and isolation and strengthen healing, care, connectedness and joy.
Rise envisions that training hundreds of parents in impacted communities to intentionally build connections with their neighbors, offer emotional support, make connections to trusted community resources and ultimately advocate to improve community resources can reduce family stress before it builds and lead to healthier, thriving families.
"If families had everything they needed to thrive, there would be fewer investigations by the family policing system taking place in the Black and brown community. At Rise, we discussed what families need in their community and how we could support them with getting the things they need and want.
Peer and Community Supporters are people that will be trained on how to support parents with resources and guidance on how to advocate for themselves and their families. If parents had a person they could go to to get support and resources without any judgment, it would be better for families and communities."
—Keyna Franklin, Rise Peer Vision Team member and Assistant Editor
Build Trust Love and Joy
Research shows that relationships help buffer the chronic stress families experience because of racism and poverty, and that highly networked communities are more able to make use of existing resources. Trained networks of peers with credible life experience can help to reduce the likelihood of contact with the family policing system, address barriers to resources, and support and contribute to safe, strong families and communities.
Beyond training individuals, this approach can build the collective care capacity of entire communities. Throughout the pandemic, we've seen the responsiveness of mutual aid networks in addressing resource needs, and parents have turned to grassroots community groups for connection and support. This vision for peer support is consistent with that spirit of community and solidarity. Intentionally supporting relationships that cultivate trust, love and joy can be a powerful change mechanism for strengthening communities.
A Model For NYC and Nationally
Peer support approaches are gaining strength nationwide, and we hope this peer model to prevent family policing will be implemented by communities throughout the country. Rise seeks to help launch it in New York City in partnership with other community-led organizations, beginning with communities most impacted by ACS (Administration for Children's Services). The Peer Vision Team interviewed eight organizations doing relevant work and drew on what we've learned over the years at Rise to lay out the vision in this paper. We hope that the examples and vision highlighted in this report will be useful to allies in NYC and nationwide who are building and growing peer networks as a strategy to support families and prevent involvement with the family policing system and other punitive systems.
Report Contents
In this Insights report, you will find the following information, articles and stories—and much more:
Peer and Community Care Model Webinar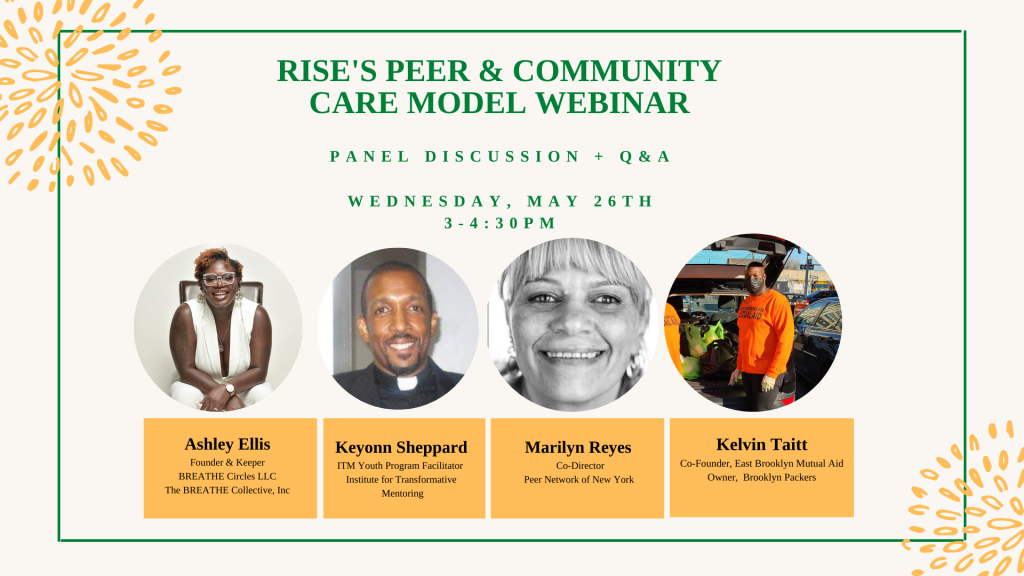 Date and Time: Wednesday, May 26, 2021, 3:00 – 4:30 PM EDT
Register today for a webinar and panel discussion about strengthening support for families and communities!
About the Report: The Peer Vision Team and Groups We Interviewed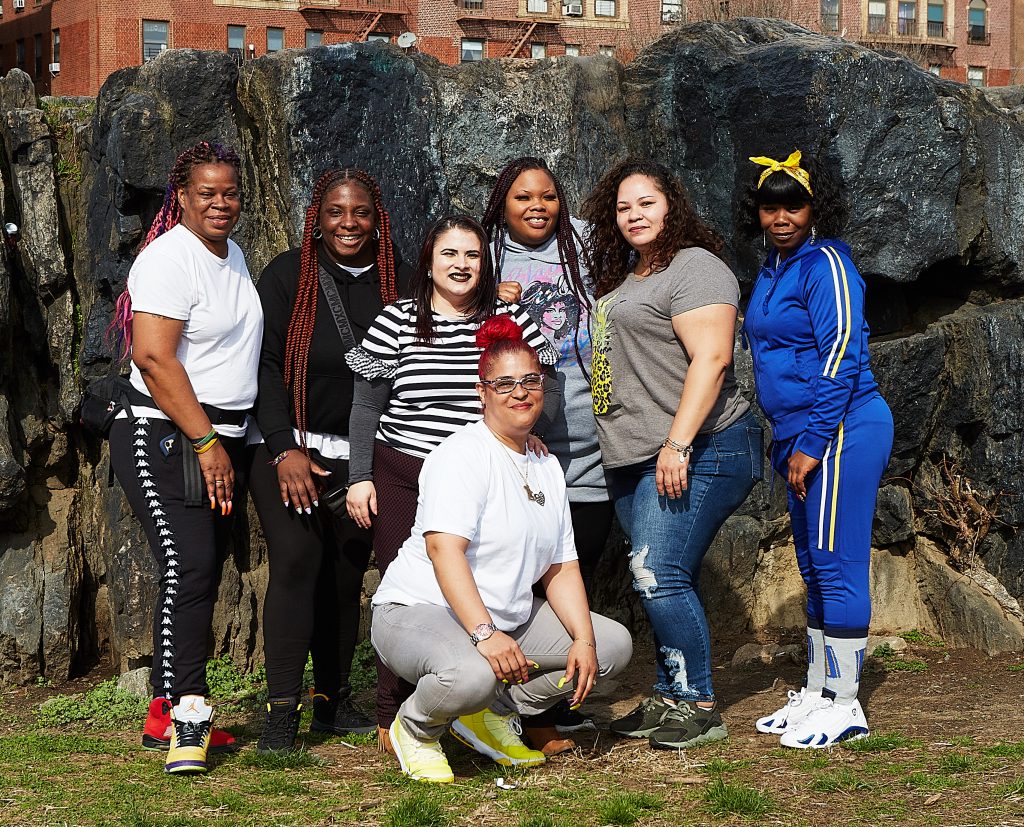 This report was developed collaboratively by the Rise Peer Vision Team:
Careena Farmer, Contributor
Norahsee Ortiz, Contributor
Shakira Paige, Contributor
Tenisha Sanders, Contributor
Imani Worthy, Parent Leader
Keyna Franklin, Assistant Editor
Jeanette Vega, Assistant Director
Teresa Marrero, Training Coordinator
Tracy Serdjenian, Editorial Director
Rise extends deep gratitude to everyone who was interviewed to inform this report and model:
Ashley Ellis, B.R.E.A.T.H.E. Collective; Amelia Frank and Rubén Austria, Community Connections for Youth (CCFY); Albania Maria, Juan PaPo Santiago and Shonique Hill, Community Navigator Program, Hunter College Silberman School of Social Work; Kelvin Taitt, East Brooklyn Mutual Aid; Dena Garzone, Moms Matter®, Fostering Great Ideas® ; Marilyn Reyes, Peer Network of New York; Diana Autin, SPAN; Keyonn Sheppard, Institute for Transformative Mentoring (ITM), Center for New York City Affairs, The New School.
The report was authored by Tracy Serdjenian and edited by Nora McCarthy.
Our work on this model and report began with a meeting hosted by The Pinkerton Foundation two years ago to explore how the role of credible messengers had grown dramatically in New York City to support people impacted by the criminal legal system but not for parents impacted by the family regulation and policing system. Thank you to all who joined that discussion, and to April Glad, senior program officer at Pinkerton, for launching us on this journey and for your ongoing support with this project.

Rise then continued this exploration through a conversation with Diana Autin, executive director at SPAN, who generously shared information about SPAN's work. This activated Rise to think more strategically about how a peer network could support parents and flourish outside of the system.