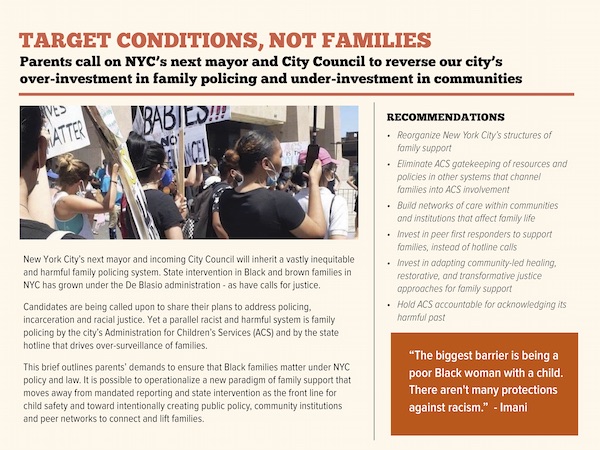 Parents call on NYC's next mayor and City Council to reverse our city's over-investment in family policing and under-investment in communities.
New York City's next mayor and incoming City Council will inherit a vastly inequitable and harmful family policing system. State intervention in Black and brown families in NYC has grown under the De Blasio administration — as have calls for justice.

Candidates are being called upon to share their plans to address policing, incarceration and racial justice. Yet a parallel racist and harmful system is family policing by the city's Administration for Children's Services (ACS) and by the state hotline that drives over-surveillance of families.

This brief outlines parents' demands to ensure that Black families matter under NYC policy and law. It is possible to operationalize a new paradigm of family support that moves away from mandated reporting and state intervention as the front line for child safety and toward intentionally creating public policy, community institutions and peer networks to connect and lift families.

Rise Recommendations
We call on candidates for mayor and City Council to address family policing in their platforms and go on record committing to parents' recommendations for a new approach in NYC.
Organizations allied with this vision include Brooklyn Defenders, Bronx Defenders, Center for Family Representation, Neighborhood Defender Services and NYU Family Defense Clinic, which represent parents impacted by ACS intervention and family separation.