The Rise & Shine Program graduated three parents on June 20th, 2023. You can view the recording here. If you're interested in being apart of the cohort for Rise & Shine 2024, please email Teresa Bachiller at teresa@risemagazine.org. To learn more about Rise & Shine, click here.
Congratulations, Rise & Shine Graduates!
Join us in celebrating the 2023 Rise & Shine Parent Leadership Program graduates:
Vanessa Fortunato
Monique T.
Shakira Kennedy
During the program, graduates complete:
a writing workshop series in which they develop a publication-quality story and creative writing pieces, including poetry;
a public speaking workshop series, in which they build skills and strategies for engaging mindfully, using their voice and body, maintaining calm and focus and connecting with their audience, self and message;
community-building and reflection sessions using restorative justice circlekeeping practices;
a community-based mini-project;
10 hours of interactive learning via "shadowing" and participating in advocacy and organizing opportunities.

About Rise & Shine
The 2023 Rise & Shine Parent Leadership Program ran from February through June, meeting both online and in person. The program supported NYC parents impacted by ACS with strengthening their skills, knowledge and networks to be leaders in their communities.
Through the 18-week program, parents:
Built a strong foundation for community leadership;
Strengthened their writing and public speaking skills;
Connected with Rise staff, parent leaders and community organizers and participated in additional interactive learning, advocacy and organizing opportunities;
Reflected on experiences together and built a peer-to-peer network;
Engaged with expert speakers and community members on a variety of topics, including child welfare history and law, parents' legal rights, community organizing, legislative advocacy, systemic oppression, podmapping, trauma, toxic stress and self- and community care.
>> Are you a parent impacted by ACS? Complete our Get Involved Form to receive information about Rise & Shine 2024.
>> Interested in learning more about Rise & Shine? Read our 2022 FAQ.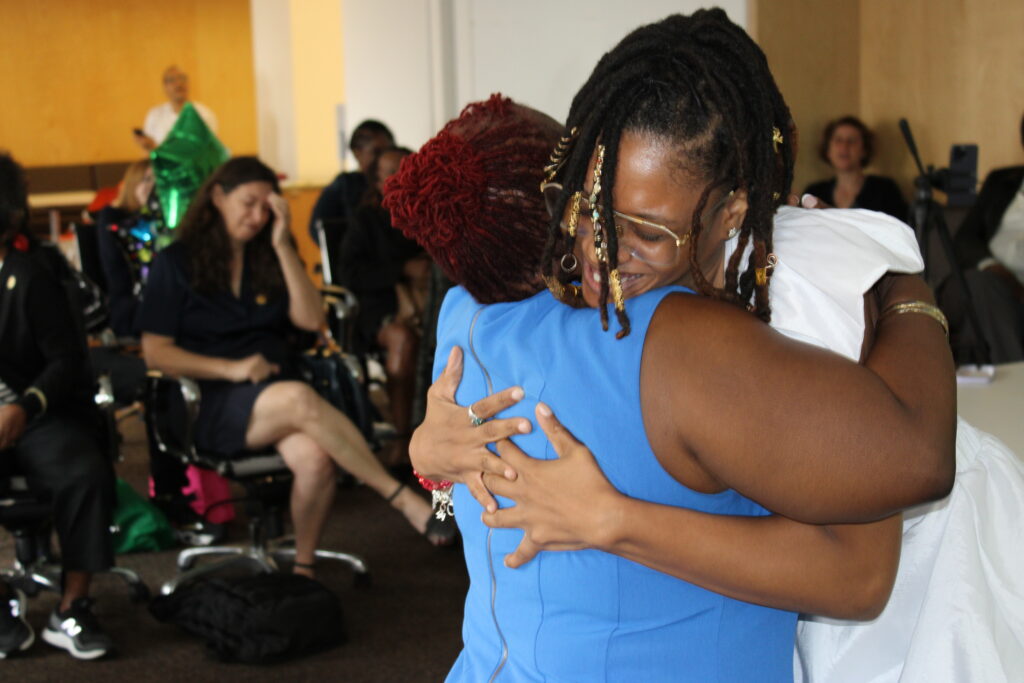 Rise & Shine Presenters and Facilitators
Rise extends deep gratitude to all of the Rise & Shine 2023 presenters and facilitators. Thank you for providing engaging and interactive knowledge-building workshops for the Rise & Shine program!
Presentations by Rise Partners
History of the NYC Child Welfare System
Michael Arsham, Executive Director, Office of Advocacy, ACS
Sabra Jackson, Parent Engagement Specialist, ACS
Introduction to Advocacy
Sabra Jackson, Parent Engagement Specialist, ACS
Leatha Jennings, Parent Advocate, Forestdale, Inc.
Maya Marshall, Parent Advocate, Rising Ground
Rachel Williams, Parent Advocate, Graham Windham
Elliot Williams, Parent Advocate, Center for Family Representation and Rise Board member
Jeanette Vega, Executive Director, Rise
Toxic Stress & Systemic Oppression
Naashia B, Parent Organizer, Rise
Imani Worthy, Family Advocate, Center for Family Representation
Shamara K, Organizer, Voices of Women
Know Your Rights: Early Legal Defense
Jean Padilla, Early Defense Parent Advocate, Bronx Defenders
Michael White, Jr., Staff/Early Defense Attorney, Family Defense Practice, Bronx Defenders
Know Your Rights: NY Statewide Central Register
Christine Gottlieb, Co-Director, NYU School of Law Family Defense Clinic
Legislative Advocacy
Nia Adam, Trainer, The Advocacy Institute
David Ng, Engagement Manager, The Advocacy Institute
Movement for Family Power Exists to Fight the Foster System's Policing and Punishment of Families
Erin Miles Cloud, Co-Director/Co-Founder, Movement for Family Power
Moving from Trauma to Power
Dr. Tricia Stephens, Professor, Silberman School of Social Work
Rise Presenters
The following Rise staff members provided workshops for Rise & Shine on abolition, community organizing, parent leadership, systemic oppression and toxic stress:
Melissa Augustin, Rise Contributor
Naashia B, Parent Organizer
Cassandra Gonzalez, Program Support Manager
Mary Holiman, Communications & Organizing Director
Shakira Paige, Peer Trainer
Zoraida Ramirez, Peer Trainer
Yvette Sequina, Rise & Shine Contributor
Jeanette Vega, Executive Director
Halimah Washington, Project Manager
Robbyne Wiley, Senior Parent Leader
Rise & Shine Program Staff
Teresa Bachiller, Rise & Shine Director
Robbyne Wiley, Senior Parent Leader
Yvette Sequina, Rise & Shine Contributor
Keyna Franklin, Writing & Public Speaking Coordinator
Virginia Vitzthum, Rise & Shine Editor
Ashanti Bryant, Communications & Operations Director