Congratulations 2021 Rise & Shine Parent Leadership Program graduates!
The program ran from February through June 2021 and is by and for parents directly impacted by the family policing system. In Rise & Shine, parents built a strong foundation for advocacy and leadership in their communities by:
Providing peer support and creating community grounded in restorative justice principles and practices;
Engaging in knowledge-building, writing and public speaking workshops;
Writing a publication-quality story based on their experiences;
Collaboratively developing a video sharing their abolitionist vision;
Completing experiential learning hours by participating in movement meetings, webinars, and events.
> Read the Rise & Shine 2021 Program Report
> Learn more about our annual Rise & Shine program and outcomes since its inception in 2019
Rise & Shine Graduates June 2021
Tyreena Anderson
Letasha K. Betancourt
Alycia Campbell
Danisha Darby
Shatavia Hurt
Chanel Manning
Erica Mitchell
Zoraida Ramirez
Lindsay Anita Reilly
Yvette Sequina
Michelle Vazquez
Rise & Shine Graduation Ceremony
During our third annual Rise & Shine Parent Leadership Program graduation celebration, graduates shared poetry they wrote and a video they created identifying issues with the family policing system and highlighting their abolitionist vision.
During the graduation ceremony, Rise & Shine Program Coordinator Teresa Bachiller shared the following remarks:
Over the last four months, I have had the pleasure of supporting the leadership development of 11 powerful parents who have been impacted by the child welfare system. I want to begin by saying a huge thank you to each of the parents here today, for joining Rise and becoming a part of our community.
This year, our Rise & Shine program continued to focus on building parents' power to create safe and strong communities. These 11 parents learned about systemic oppression and histories of harm caused by not only the child welfare system, but many other systems including health and mental health, education and mass incarceration. They also learned about histories of resistance and resilience, including ways that directly-impacted communities have always been able to take care of each other by building relationships and sharing resources.
Rise & Shine also offers a space for relationship building and healing so parents can reimagine their communities and feel powerful enough to make changes that they want to see.
As one parent, Tyreena Anderson said, "Just because I am Black does not mean I cannot be a great mother. Just because I am young does not mean I cannot give my children the proper physical, intellectual, social and emotional wellness needed. The system judges and targets us—people of color, people of low income, people who have mental disabilities."
This year, Rise & Shine was completely online. Although we were uncertain how this shift would affect the program, I'm proud to say that this is our strongest year ever with our biggest graduating class. One of the most important values at Rise is relationships. It is important for parents who have been isolated by their experience to build connections with their peers. Through the Rise & Shine Program, we use restorative justice practices, a buddy system and frequent check-ins and icebreakers that are connected to the lessons to let people know that they are seen, valued and cared for. This year, our parents and staff continued to face personal challenges that were worsened by the pandemic — and, although we were never physically together, no one felt alone. We built a strong sense of community through the program.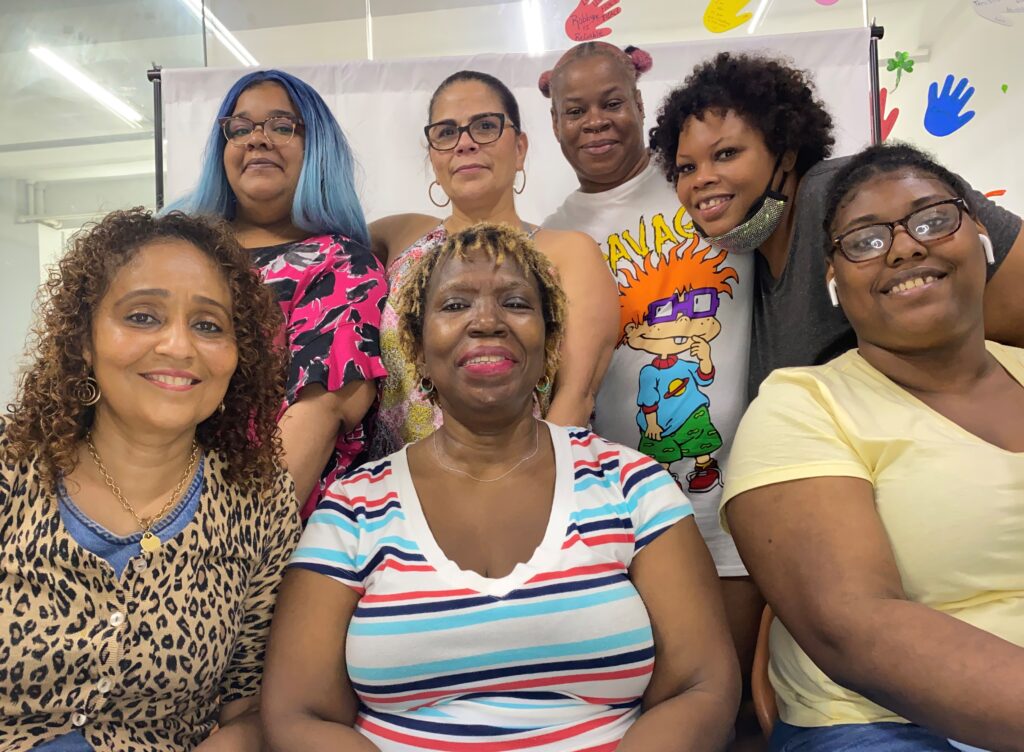 Rise & Shine Workshop Facilitators and Program Staff
Rise extends deep gratitude to the organizers and advocates who facilitated knowledge-building workshops on a variety of topics:
Parents Helping Parents: Moving from Trauma to Power, Tricia Stephens, Silberman School of Social Work
History of the Child Welfare System, Mike Arsham, ACS Office of Advocacy
Building a Parents' Platform: Community Conversations, Rise Organizing Team
SCR Process Awareness and SCR Reform and Advocacy, Kelsey Draper Advocacy Specialist, Brooklyn Defender Services Family Defense Practice 
ACS Investigation Process, Parents' Rights and Advocacy, Alfredo Perez, Sabrina Calloway, Brian Halbrook, Brian Jones, Brooklyn Defenders Services Family Defense Practice 
Understanding Systemic Oppression Connected to Child Welfare, Erin Cloud, Movement for Family Power
Introduction to the Advocacy Movement: Advocacy, Healing and Safety, Tracy Carter, Digna Denis, Sabra Jackson, Bevanjae Kelley, Teresa Marrero and Hope Newton 
Basic Community Organizing, Maria Bautista, Alliance for Quality Education 
Policy-Making Process and Political Advocacy, Cynthia Travieso, Community Voices Heard
Toxic Stress, Strong Families and Resilient Communities, Nora McCarthy and Naashia B., Rise
Abolition Workshop, Bianca Shaw and Genevieve Saavedra Dalton Parker, Rise
Mayoral Candidates Brief: Presentation and Discussion, Rise Organizing Team
Rise & Shine Program Staff
Teresa Bachiller, Rise & Shine Program Coordinator
Robbyne Wiley, Rise & Shine Program Co-Facilitator
Imani Worthy, Public Speaking Workshop Facilitator
Keyna Franklin, Writing Workshop Facilitator
Tracy Serdjenian, Writing Workshop Facilitator
Bianca Shaw, Co-Executive Director
Ashanti Bryant, Program Assistant
>> Are you a parent impacted by ACS who is interested in applying for Rise & Shine next year? Complete the Rise get involved form and we'll let you know when we're accepting applications for Rise & Shine 2022!