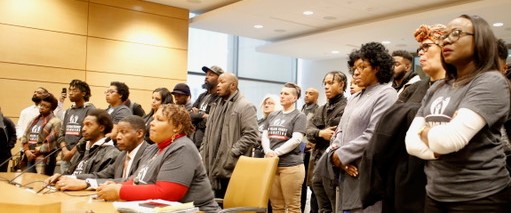 The International Parent Advocacy Network (IPAN) partnered with Rise to develop the Toolkit for Transformation. Here, we highlight groups featured in the Community Organizing section of the toolkit.

Protests, Meetings and Rallies Led by Aboriginal Grandmothers, Australia
In 2014, Aboriginal grandmothers in New South Wales, Australia, who were determined not to let their grandchildren become the next "Stolen Generation," began to organize.
Aboriginal grandmothers Deb Swan, Suellyn Tighe and Jenny Swan connected with other grandmothers who'd seen their grandchildren placed in care despite a lack of specific evidence that they were in imminent danger. They'd been turned down as resource parents for their grandchildren, sometimes with no more concrete reason than that they were deemed "unsuitable." Together they formed an organization called Grandmothers Against Removal NSW.
They took to the streets in protest, even when parents with children in care feared that joining them might lead to repercussions from local child welfare authorities. They held meetings and rallies to educate Indigenous families about their rights and about the increasing numbers of Aboriginal children being placed. Learn more about their organizing and its impact.

Black Children Matter: Political Protests Pressure Systems to Change, Minnesota, The United States
In response to the racial disproportionality of Minnesota's child welfare system, parent organizers and their allies have led sustained efforts to raise public awareness, pressure child welfare officials to implement changes on the frontline, and work with legislators to pass the African American Family Preservation Act. Read more about their work and watch videos featuring parents, grandparents and allies fighting systemic racism.

Building Community and Making Connections, The United States
Movement for Family Power (MFP) works to connect activist efforts in child welfare to the movement to end mass incarceration in The United States and The Black Lives Matter movement. MFP believes that communities are best positioned to attack massive injustices, and that supporting the leadership of those most impacted will help usher us into ethical and sustainable policy shifts and radical transformation. MFP works to build loving and trusting community with partners and communities who want to reduce the reach of the foster system. Learn more about MFP's work and strategies.

>> Explore additional community organizing resources, including resources from Support Not Separation in England.