Rise's TIPS handouts, videos and posters offer parents clear information and peer guidance to navigate their cases, and provide frontline foster care professionals with tools to strengthen communication and trust with parents.
Developed in partnership with parents and frontline staff at three NYC foster care agencies–Graham Windham, JCCA and Sheltering Arms–our first set of TIPS focuses on visits. Rise has trained caseworkers, visit coaches and parents advocates to use the TIPS to orient parents when their children enter foster care and to open problem-solving conversations with parents who are struggling. Learn more through our implementation guide, or scroll down for outcomes.
Parent-to-Parent Tips for Handling Supervised Visits with Children in Care
This video features three parents who speak from the heart about how they overcame painful feelings and anger, connected with their children, and moved on to unsupervised visits.
Tips for Supporting Parents in Supervised Visits
This video features four parents who offer guidance to frontline staff on how to work with parents to create positive visits with children in foster care. The focus is on establishing routines, handling conflicts and keeping up hope.
Handouts
This set of four handouts, featuring the same parents as in our videos, provides peer guidance on rights, responsibilities and problem-solving.
Making the Most of Visits offers guidance from a parent advocate on creating routines, playing, handling tough questions, and saying goodbye in a positive way.
What You Need to Know provides basic information about how parents can get more family time with their kids – and what will set visits back.
Handling Painful Feelings acknowledges the challenges of visiting, especially for parents who have experienced trauma.
Helping Children Heal explains attachment and guides parents in connecting with children who are angry, hurt and sad.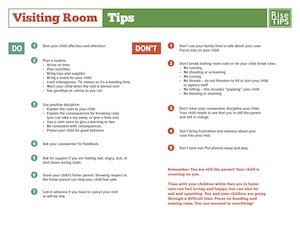 Poster 
The Visiting Room Do's and Don'ts poster provides basic guidance from the first visit.
Tips for TIPS Newsletter
Sign up for our occasional Tips for TIPS newsletter, which offers guidance to caseworkers, supervisors, visit coaches and parent advocates.
* Welcome to Rise's Tips for TIPS Newsletter for Staff
* Setting Parents Up for Success
* Using TIPS to Build Transparency and Trust
* How Case Planners Are Using TIPS in Hard Conversations
* Using the Personal Stories in TIPS to Engage Parents
* Helping Parents Handle Painful Feelings – and Trauma – in Visits
Using the TIPS in Frontline Practice
The visiting TIPS build on three concepts: attachment, trauma and toxic stress. Parents often need information about the routines, activities and discipline approaches that can build secure attachment. Trauma can make it difficult for parents and children to feel safe and connect during visits. Stress can make it difficult for parents to stay calm and plan ahead.
The TIPS provide simple information – illustrated by the stories of real parents – to give caseworkers and parents a common language for understanding what's expected in visits and for solving problems. Frontline staff can review the TIPS handouts and video to orient parents to visits, as well as to solve problems with parents so that families can move to unsupervised time. Read our implementation guide to learn more about using TIPS.
Impact
In 2017, Rise followed up with 50 caseplanners trained at Graham and JCCA. They reported using the TIPS handouts in 25 problem-solving conversations with parents, and saw 22 out of 25 parents take specific actions that improved visit quality after the TIPS-based discussions. Both agencies now routinely review the TIPS with parents during the Transitional Conference (intake) to provide an overview of expectations, rights and success strategies parents can use to get off to a strong start with their children during visits. At JCCA, that is done by case planners. At Graham, it is done by Family Coach staff.
In June 2018, Rise trained units at Children's Aid, Children's Village, Good Shepherd, SCO and Rising Ground to use the TIPS approach. So far:
89% who used to orient parents to visits felt the conversation was impactful;
85% who used in problem-solving conversations saw parent take an action that improved visit quality;
68% reported the TIPS conversation had a positive impact on their relationship with parents.
Below is feedback from caseplanners:
Setting Parents Up for Success:
•  "When parents come in, we tell them they have visits but we don't tell them what's effective. I know we don't want parents to feel like, "Even when I see my kids, there's a certain way of doing that, too?!" But parents need to be informed about what we expect."
•  "I would describe the TIPS as stepping stones to move in the right direction and build a positive relationship."
•  "One mom was very dismissive when I showed her the TIPS, but later I saw her in the lobby, reading the TIPS. And she took the advice."
Taking Personal Dynamics Out of Policies:
•  "I was able to use the TIPS to indicate that it's standard policy that parents need to be consistent to get more visits, not just the caseplanner's feelings. That took something personal out of it."
•  "The TIPS suggestions are viewed as policies rather than a caseplanner perspective or command."
Finding Language for Problem-Solving:
•  "The TIPS explain difficult conversations to parents. Parents seem to be more confident after using the TIPS."
•  "I introduced the TIPS to one mom to discuss different ways to entertain her child, because she was bringing the same game over and over and the child was getting bored and hyper. I saw that the mom brought different activities for the child and he is more engaged.
•  "I brought the TIPS to a home visit. We discussed discipline strategies. I read the discipline TIPS and I've seen this mom try them. Before, she was only having the child kneel in the corner. She learned that she can give warnings."
•  "One tip is to keep the visits positive. Before, one mom would try to find out every bad thing and assumed the worst. It was negative for her children. Now she speaks about positive things: 'How was your week? How was school?' The TIPS helped her understand why positive conversation is important for her children and now she spends more time having positive interactions."
Helping Caseplanners Ground Themselves:
•  "I used the TIPS for me. Reading them over reminded me of what I'm looking for in the visit and what the visit is about."
•  "Reading someone's story of what they've been through, it's a reminder, 'These are people. No matter what these parents did, they were ripped from their child.' One mom I was working with had been very rude to me. I was starting to give up. I didn't want to be bothered anymore. I was telling myself, 'I'm never going to be able to help this person. It is what it is.' Reading the TIPS, I was able to look away from the situation and remind myself that my role is to help. This mom actually told her lawyer that I was the one who took the time to help her."