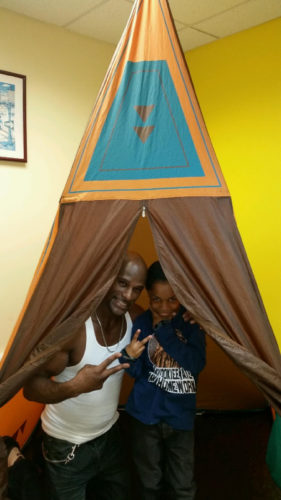 When my son Isaiah was born on January 3, 2007, I was unsure whether I was his father. Then I laid his small body against my chest with my head bowed down to his and felt an unmistakable bond. I knew he was mine.
PROVING MY FATHERHOOD
Unfortunately, because of his mother's actions, my son went into foster care. I was determined to get him back. While I filed for paternity and waited for the court to grant custody, I had unsupervised visits with my son. I would take him to the park and let him see the sights. I would cradle him in my arms and sing "rock-a-bye baby." He would often smile. it tickled me to see that he enjoyed his father's terrible singing.
Finally, when my son was 5 months old, the judge granted me custody. My son went everywhere I went—grocery shopping, physical therapy. Once I couldn't find a babysitter and had to take my son to my final exams.
LOCKED OUT OF HIS LIFE
Unfortunately, when Isaiah was almost 11 months old, I was arrested on old charges. That was the worst day of my life. Isaiah went back into foster care.
My mother came to NYC to care for my son. But on Nov. 21, 2007, he was removed from her care. I've never understood why. Isaiah was in foster care in August 2008 when I was sentenced to eight years.
At first, my son's agency brought him to visits with me once a month through a program called CHIPP. Then I moved upstate and didn't see him for months. The first time Isaiah came to visit me at Fishkill, I was afraid he wouldn't recognize me. He was already 2 years old but came screaming, "Daddy!"
The end of the visit was painful. He grabbed me by my pinky and tried walking me out the door. I took baby steps to make the walk take longer. When we got to the door, he was crying, "Daddy! Daddy! Daddy!" all the way out the door.
During my six years of time served, I remained consistently in contact with the agency. ultimately I was told by a caseworker that I had no rights in my son's case because of my sentence length. In 2011 the agency filed for termination of my parental rights.
BACK IN MY ARMS
I came out of prison in July 2013, two years early for good behavior. Isaiah was 7. At my first visit with Isaiah, I picked him up and cried to have my son back in my arms. He did not want to get down.
From then onward, I visited my son every Friday at the agency. But my case was also in the middle of the termination trial. My caseworker and attorney wanted me to surrender my parental rights so I could continue to see my son. Under New York state law, if you "surrender," you can sign a "post- adoption contact agreement." If your rights are terminated, however, you will have no legal right to see your child again.
But I kept saying, "I'm not giving up my baby." I never wanted my son to think that I had given up on him. I kept imagining his foster mother might tell him, "See, your family doesn't love you. Even your dad gave you up!" So I kept fighting.
In February, my parental rights were terminated.
OUR LAST VISIT
The last time I saw my son, I didn't know it would be our last time together.
That day, we made a teepee. He held up the rods while I attached the pieces. While we worked, I gave him a little history lesson about Native Americans. Then he opened the zippers and we stood inside and took a picture together. I felt proud. I wanted to inspire my son to be a builder, not a destroyer.
That was five months ago. Since then, I've been imagining my son asking, "Why can't I see my Daddy?"
For a few months, I was simply depressed. Then I reached out to the NYU Law Clinic for representation on my appeal. They told me that even though I don't have a legal right to visit Isaiah, his foster mother can allow it. But when I got in touch with her, she told me that her attorneys advised her not to let me see my son or talk to him. Filing my appeal is now the only path for me. Nobody can tell me that it's in my son's best interest that he never see me or speak to me again.