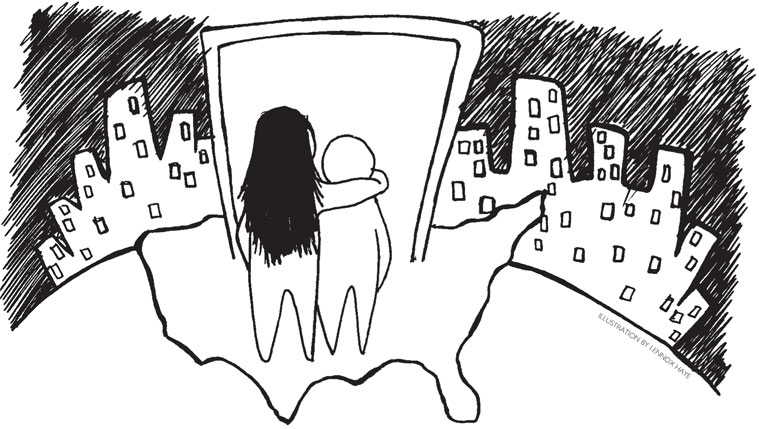 Translated from Spanish.
Two years after my son was born, I decided I couldn't continue my relationship with his father and we separated. I was sad and confused, but Rene and I were arguing all the time and I knew ending it would be the best for my son and me. I said to myself, "Don't confuse a fear of loneliness with love."
It was one of the most difficult moments in my life, especially because I was far from home with few friends to lean on. I'd come to New York from Mexico with only my cousin when I was barely 16 years old. My mother asked me to come here so I could help our family economically.
When I first arrived, I felt sad but excited to be in another country earning money for my family. I found a job and made a group of friends that I had fun going out with. Then I met Rene and we had our son, Dylan. Soon I became distant from my friends without realizing it, and my son and his father became my world.
More Alone Than Ever
After Rene and I split up, it was difficult to wake up knowing that I was alone in New York without my mother, siblings or friends, without my father who died when I was young, and without Rene by my side. I came here full of dreams, feeling strong. Only six years later, I found myself without the friends I'd made or the family I'd created, sad and disillusioned. I felt unsure of how I could move forward without anyone to confide in or to support me, and with my beautiful baby depending on me to provide for him.
I thought about returning to Mexico. But I told myself, "Evelyn, what are you going to do there? It will only be harder to help your family economically if you go back home."
I also told myself that I would not flee my problems. I would face the challenges in front of me. I wanted to teach Dylan that no matter what happened his mother was going to fight to get ahead.
'If My Mama Was Here…'
Dylan and I moved to the only apartment I could afford—we share it with three strangers. I brought Dylan to a babysitter every morning and I worked at a coffee shop from 7 a.m. to 3 p.m. so I could spend afternoons with him.
At first, simple things felt so hard without a partner. If I had to go to the corner store because Dylan wanted his glass of milk before going to sleep, I'd have to take him with me, even in the winter when we had to wrap ourselves up in heavy clothing. I worried about Dylan while I bathed. Always I returned to the same thing: "If my Mami was here maybe she could stay with him and I would have time and freedom."
I could hardly find time for myself and I couldn't distract myself from my worries like I could when I was single. At times, I had invitations to go dancing, to eat out, or simply do something quiet. It was frustrating to turn down the things I craved.
Feeling Stuck
Sometimes I felt angry at Dylan, at myself, and at my family in Mexico. As a single mother and an illegal immigrant, I was struggling with the fear that I couldn't follow my dream of going to college and finding a better job.
Then I could only say, "Oh my God, forgive me, Dylan, please, my baby, I feel bad for thinking that, because now that I am not a free woman, things can't go as easily for me."
I'd feel a terrible sadness for thinking that my child was impeding my progress, because in truth, I felt fortunate to have a son, especially one as enchanting and marvelous as Dylan.
I felt as if I had one side of a coin and I wanted both and was going around and around all the time. I loved when I could stop a moment and look at my baby. At times I would say, "Dylan," and with his little boy voice he'd answer, "What, Mama?" I'd look at his eyes and wonder if there was sadness in his heart. My eyes would feel weak and before a tear could run from them, I'd say, "You know what, my love? You're the love of my life, my great treasure."
'You Can Do It'
To find a better job, I went to a center in my neighborhood where they help people find work. But because I don't have papers, they couldn't help me. They told me about other free services that I could get despite my immigration status, such as English classes, help filing taxes, or family counseling.
I thought a counselor could help me because I didn't have many friends and I wanted someone who could listen objectively to my story. I didn't speak with my family about my sadness and loneliness. Every time I spoke to them they were so focused on unburdening themselves of their own problems or looking to me to help them, and I preferred to keep my sad feelings to myself.
So I began going with Dylan to counseling at the Center for Family Life in Sunset Park. My counselor, Liza, took the time to listen to me and help me with my decisions and thoughts. She also helped me find a good daycare for Dylan and he thrived there.
Counseling gave me time to get to know myself better. I had so many things on my mind, and so much to do, that I hadn't taken time to relax and make myself think more calmly about my feelings and priorities. Liza encouraged me, saying, "You'll be OK, keep going. You can do it, you are doing it and you'll achieve your goals." For me these words were incredibly important and validating.
Connecting Little by Little
Little by little, I also started to make a social life. You meet so many people, but only with a few are you going to find a real closeness. I said to myself, "If the people who invite me out take off because I have a son, I'm better off even though it hurts. I don't need to be with someone who doesn't understand me or make me feel good."
I found that while some turned their backs, others opened their doors for me and my son.
I don't have too many friends now, but the ones I have are good friends. They are people in whom I can confide and who also confide in me.
Over time, my relationship with Rene has changed, too. We appreciate each other now as friends. I am very proud of him as a father.
It took us a long time to get to this point. At times I felt like my efforts were useless, but I kept going and told myself, "Even if he doesn't want something good, I do, and I will keep trying." Now he takes Dylan twice a week, and he knows me and cares about me as a person. He tells me, "Evelyn, you're a good, smart, strong girl. If anyone deserves for good things to happen to her, it's you."
Many Steps Forward
Last winter, I took a big step toward reaching my dreams. I enrolled in college, and I've been taking three or four classes a semester since then.
I am very happy that I am studying because this is something I always dreamed of, but it's also a difficult task to study, work, and be a mother, friend, and daughter at the same time without allowing myself to fall at the first obstacle.
We have so many more expenses now that I'm paying for school and books. I am ineligible for financial aid because of my immigration status, so I have to pay the full bill. But I am able to afford school because our rent is low. The main drawback is that I can't send much money to my mother. I try to send her money for special occasions or in an emergency.
I go to school three times a week, usually bringing Dylan to the daycare there. It would be better if he didn't have to spend so much time in school and daycare, but I don't have many options, so I follow the phrase, "Quality is better than quantity." The days I am with him I am by his side the whole time.
Our Own World
Now when it's just Dylan and I, it's like we're in our own world. He likes to ask me strange and serious questions, like, "What if the moon was in a different space? And why is it always following us?" or, "What does the word 'criminal' mean? Because I heard it in the movie Spiderman." These questions throw me for a loop, but I search for words that, at his age, he can understand.
In nice weather we go to the park, ride bikes, skate, or go to the playground. At home, we play with toys, draw, watch TV, read, sing and sometimes exercise together—we do Pilates. Some days I have too much homework and can't give him my time all afternoon, so I tell him, "Ok, Dylan, we'll play but only for a short time because then Mami has to do something else." While I do my homework, he does his, or he draws, and afterward we eat together and go to sleep.
I try to bring my son happiness every day. When I'm reading him a story, I try to perform each of the characters with enthusiasm. Many times I'm very tired, and at first it wasn't easy for me to make time, but both he and I are adjusting.
Dylan and I are calmer now and our relationship is more stable. We chat more together and play more pleasantly, and at the same time, I don't feel I'm neglecting myself as I used to.
A Chance to Grow
I have so much more I want to achieve. I would like to move to a better apartment and find a better job. But I can't solve every problem right this minute. I try not to stress myself out thinking about what I want and can't have. I am trying to take things more calmly and to go forward little by little.
Some days I feel angry at the injustices I face. If I could become a legal citizen, I know I would be able to do so many things. I feel powerless knowing that I can't do anything to change my immigration status. It's out of my hands. I only hope with great faith that one day my immigration status won't stand in my way.
When I am thinking positively, I look back on this painful time and say, "Maybe I needed some solitude to focus on my son and myself." I don't feel as strongly that becoming a single parent is holding me back. These years have helped me grow as a woman and a mother.
Los cuentos en esta revista de Rise fueron escrito originalmente en Español. Para leer los cuentos completos en Español, visita a nuestro sitio del internet:www.risemagazine.org/pages/en-espanol.html