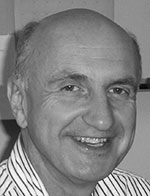 I'm the executive director of Parents Helping Parents, an organization in Massachusetts that provides parent support services. We run parent support groups and a parental stress hotline.
I learned about Rise almost 8 years ago when I was working on a project to develop a handbook for parents facing the child welfare system in Massachusetts. A member of our group invited Rise's director, Nora McCarthy, to talk with us about Rise. I thought, "That sounds great! I've got to read it."
When I need an orientation to a particular aspect of life that parents go through, I can always rely on Rise. For example, we've started some support groups in prison, so the Parenting from Prison issue was a great guide for me and the facilitators we trained. They all got copies. I told them, "Read this. This will give you some idea of what you will hear when you go into a prison here in Massachusetts."
 One really good story was from Spring 2009 issue, "Baby Girl vs. The Game: Am I strong enough to give up the streets?"
At Parents Helping Parents, we run a traditional parent support group. The group discussions are based on whatever the parents want to talk about. But I have some copies of Rise that I always carry with me, and every so often I will give a parent a story because I think it will resonate with them.
Sometimes the parents tell me they read it and enjoyed it. Other times they don't mention it. That's OK. It's part of our approach just to give people privacy and to respect their space as much as possible.
Rise grounds me and it grounds our other facilitators. If we want to support parents who are trying to get their kids back, we need to understand the difficulty of that struggle. I haven't gone through the stresses and trials that people go through in the child welfare system, so I have to learn from people who have. One way I learn is by reading, so Rise is immensely helpful.
Being judgmental doesn't get you anywhere. If you immerse yourself in someone else's story, and put yourself in somebody else's place, it's a lot easier to be supportive.