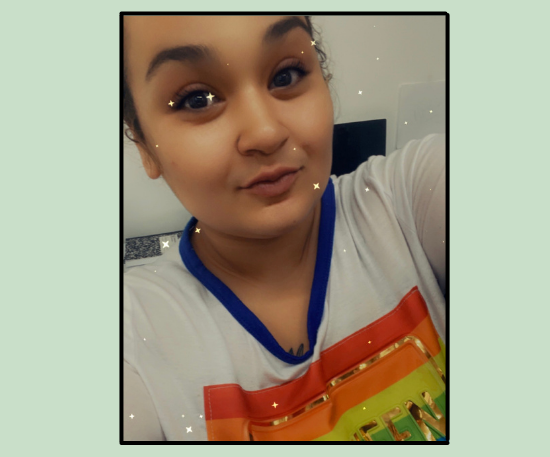 Note: The acronym LGBTQIA stands for lesbian, gay, bisexual, transgender, queer or questioning, intersex and asexual and/or agender.
Power Dynamics and Systemic Oppression
I vividly remember walking into a visit at the foster agency with my girlfriend, bringing clothes for my son. Twice, I corrected a worker who was misgendering my partner, calling her "he" and not "she" because of her attire.
I saw LGBTQIA-friendly signs up at the agency. My son was with a foster mother who dressed the same way as my partner—but her gender was said appropriately. It's hard seeing foster parents get more acceptance than "birth parents."
Where do I, as an Afro-Latinx nonbinary and pansexual person, fit in the world of systemic oppression? Objectivity, power hoarding, submission, justification.
The real reason the worker treated us differently is because the foster parent can make a fuss—and as a "birth parent," your objective is your child. You can't say anything about anything else, for the system spins what you say.
They use the phrase "in the best interest of the child" a lot, but I don't believe what they do is in the best interest of the child—sometimes the foster system is worse than what's going on at home.
But as "birth parents" separated from our children by the system, what voice do we have but visits—and an eyeball in everything we do?
The Importance of Affirming Support
There is an impact of not using people's proper pronouns. This can be experienced from childhood to adulthood. Family also can attack your sexuality and/or gender identity.
That can affect your mental health—and later on, that can impact your children. When family is not supportive of your identity, it can scar you. It can make you self-conscious of your body and their questions can mess up your ideas about intimate relationships and friendships. If we feel we have to live a lie, that affects us negatively.
I want families to be more open-minded. In both families and foster settings, no kid should be treated differently or badly because of how they self-identify. Humility and understanding by families can help children to escape experiencing homelessness, self-harm or suicide or feeling emptiness in the home. It can help them grow to be confident in adulthood, instead of feeling shunned.
Families should provide proper guidance and acceptance to support the development of their children, and their self-worth and confidence. With that, the sky's the limit.
Rights and Training
The LGBTQIA community still has to work on our rights and societal change. My goal is for LGBTQIA youth and adults to have support and build community in a safe space. For me, a safe space is one where I feel like I can talk freely and in community with no judgment and my cares and concerns are listened to and valued.
I would like for LGBTQIA trainings to be conducted within the community and facilitated for different agencies. LGBTQIA people should facilitate the classes, raising awareness based on their lived experiences—just as I am sharing my lived experience with the system to strengthen understanding of what needs to change on all different levels. I would like to see more peer support in communities and change in the system and in our society more broadly.
During the COVID pandemic, I took a training about trans safety with Housing Works, which I completed in October 2021. I took the training because I wanted to be in a safe space and to get a better understanding of pronouns, hear other LGBTQIA people's stories and learn about community resources. We strengthened our awareness, learned what a safe space is and learned about resources.
Community Resources
I live in the Bronx and know of some resources for LGBTQIA people in my community and throughout the city. Destination Tomorrow has been my go-to and is close to my heart, as it's located in the Bronx and has supported me with resources.
Ali Forney Center has wonderful services for LGBTQIA youth facing homelessness. When I came out as a teenager, The Door was very much an outlet for me. They helped me become emancipated at 16 and I was able to get my own food assistance at that age. Callen-Lorde provides medical services and free testing. Covenant House, Hetrick-Martin Institute and New Alternatives are good resources, as well.
Having these resources makes me happy because I want the next generation not to feel alone and not to experience discrimination. I'm hoping they won't have to go through feeling alone— and that they will know that resources and support are out there.
Message to LGBTQIA Youth
I read that LGBTQIA youth in the foster system feel they have little or no control over their lives. Because of the injustice in the foster system, LGBTQIA youth often aren't in a home setting, but are in more confined settings like group homes. In Texas, the family policing system is investigating families just because their child identifies as trans. These statistics and examples show the harm the system and people working in it can cause LGBTQIA youth.
I recently talked with a friend from Destination Tomorrow, who is also part of the LGBTQIA community, about his experiences. Although he wasn't in the foster system himself, his family and peers had been impacted by the family policing system and he talked with me about how the separation of siblings due to system involvement can also be very hard.
During this difficult time when you may be away from your family or a permanent living situation, I want LGBTQIA youth to know that you are not alone. Never let other people make you feel like how you are feeling or who you are is bad. Have self-love and know you got this.
My message to LGBTQIA youth is that it is okay to love who you love, even if some people don't accept and support you. Some people are ignorant to the norms now. I'm hoping my story can provide information, show support and awareness and let you know that you are not alone.
For more resources, see Rise's webpage on Resources for LGBTQ Parents and Parents of LGBTQ Children and Youth.