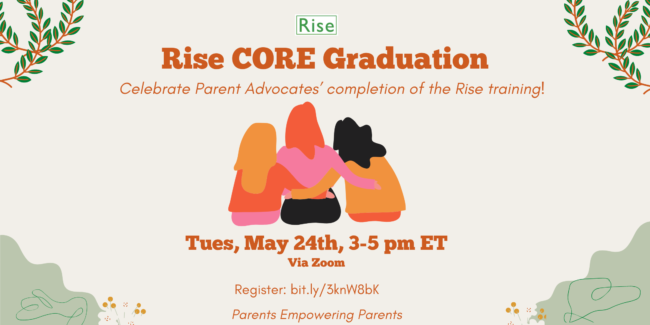 Please join Rise to celebrate Parent Advocates' completion of the CORE Training Program!
Rise's Winter 2022 CORE cohort ran from February through May 2022 and provided training for impacted parents working as Parent Advocates in NYC foster agencies.
During the graduation, you'll hear from Jeanette Vega Brown, Rise Co-Executive Director, and Teresa Marrero, Rise Parent Advocate Training Coordinator, about the CORE training elements, the value of Parent Advocates and the goals of the Parents Empowering Parents Initiative. You will also hear from graduates about their experiences and takeaways from Rise's CORE training.
Graduation will be held via Zoom.
CORE Graduates Winter / Spring 2022
Congratulations, CORE graduates!
Daphne Brown, Families Together in New York State
Jessica Cooper, New Alternatives for Children
Yulanda Cain, Seamen's Society for Children and Families
Jasmin Thomas, Rising Ground
About the CORE Training Program
Rise's CORE Program provides training to parents impacted by the system who are working as Parent Advocates. The training prepares Parent Advocates to support families with achieving faster family reunification by equipping Parent Advocates with information, tools and resources to share with parents.
As Rise works toward our vision, we recognize that there are parents coming into the system or involved with the system right now who value the information and support provided by trained Parent Advocates. The Rise CORE Program prepares Parent Advocates working in NYC foster agencies to support parents with:
navigating the system to reunify more quickly
navigating the trauma and emotions of their case
strengthening self-advocacy skills
building a support network and connections to safe, accessible resources—so that, once parents reunify with their children, they do not re-enter the system
The training series covers the following topics:
Rise visiting and service planning TIPS
Rise 90-day model to support reunification
Power of parent advocates and the history of the parent advocacy movement
History of child welfare
Parents' legal rights
Community organizing
Legislative advocacy
Trauma, toxic stress and self-care
Introduction to restorative justice circle keeping practice
Advocates are trained to use Rise TIPS as a tool to build relationships with parents and hold difficult conversations, as well as to train parents to negotiate and advocate for themselves.
The CORE Program also includes writing and public speaking workshops. In this series, Parent Advocates developed letters to introduce themselves to parents and practiced effective communication skills to navigate difficult situations at work.
CORE Presenters and Facilitators
Rise extends deep gratitude to everyone who facilitated knowledge-building workshops for the CORE Program on a variety of topics:
Felicia Alleyne-Davis, Parent Advocate, NAC and Rise Board Member
Michael Arsham, Executive Director of Advocacy, ACS
Jovonna Frieson, Parent Advocate, The Children's Village
Wanjiro Gethaiga, Social Work Supervisor / Co-Director of Manhattan Family Defense Practice, Center for Family Representation
Teyora Graves, Sr. Parent Advocate, Center for Family Representation
Sabra Jackson, Parent Engagement Specialist, ACS
Maura Keating, Director of Litigation, Center for Family Representation
Hope Newton, Center for Family Representation Parent Advocate and Rise Board Chair
Dr. Tricia Stephens, Professor, Silberman School of Social Work
Robbyne Wiley, Sr. Parent Leader, Rise
Additional training workshops were also available to Parent Advocates through Rise's first series of community training opportunities, which are open to the public.
Rise CORE Program Staff
Teresa Marrero, Parent Advocate Training Coordinator
Imani Worthy, Public Speaking Workshop Facilitator
Keyna Franklin, Writing Workshop Facilitator
Interested in becoming a Parent Advocate? Save the date for the Rise Parent Advocate Open House, June 22nd, 1:00-2:00 pm ET, to learn about Parent Advocate job opportunities in NYC.