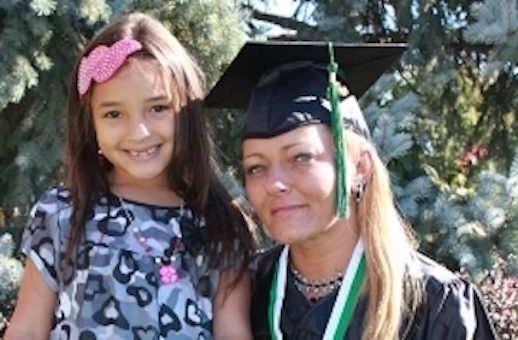 On August 25, 2015, I experienced a parent's worst nightmare. I arrived at my daughter's bus stop to pick her up only to find out she was not on it. It's a horrible feeling not knowing where your child is. Then one of my daughter's friends said that she had left school with two adults.
I called the school and learned that the Department for Families and Children of Lexington, Kentucky had taken her. I called the office but did not get an answer or a return call that day, or the next.
I was completely lost. No one could tell me that my 9-year-old child was OK. I knew she must have felt scared and alone. All that kept running through my head was how she had wanted to sleep in my bed the night before.
I desperately wished I had let her.
It took almost two weeks for anyone from social services to contact me. I was told they didn't have my number.
ACCUSED BUT NOT ASSISTED
When I finally spoke to a social worker, I couldn't form a single thought. What stood out, though, was how serious the situation was. I was being accused of neglect. Someone had reported that I did not have adequate housing and had been homeless and that I was on drugs.
A social worker had come to visit me three months earlier to investigate a similar report.
At the time, my daughter and I were living in a hotel. The worker said it was a drug-infested area. But she also said that if I kept my daughter safe and obtained adequate housing, they wouldn't take her. There was no further mention of drug use. On the phone with the new worker, I thought: "If it's about me not being able to support my child, why not help me? If drugs were such an issue, why not help me get treatment? Why go behind my back and take my child?"
I eventually gathered myself. I thought maybe this was what I needed to get myself and my daughter back in our own home with a stable life and routine, which I truly missed. I also thought honesty would bring my daughter home, so I owned up to a lifetime of struggles.
TRADING HONESTY FOR HELP
My life had been hard. I'd been addicted to painkillers ever since I was involved in a fatal car crash the day after my high school prom, and I smoked pot regularly to cope with stress. I'd been sober for long periods of time but also relapsed several times. In my late twenties, I'd spent almost four years in prison for selling drugs. I was released early but re-arrested eight months later because I had moved without notifying my parole officer.
I discovered I was pregnant during my second sentence and gave birth while shackled to a hospital bed. I was released when my daughter was 6 months old.
PRISON TO PROGRESS
The first several years with my daughter were a struggle. But we'd also had good times.
From 2010 to 2014, I was in a program called one Parent Scholar House in Lexington that provides free housing to single parents who are full-time students and maintain a 3.5 GPA.
Within three years, I'd graduated with an associate's degree. It was the happiest day of my life; my daughter was by my side.
During those years, my daughter and I did activities and went to museums. When she was 7, we went on our first vacation. I will never forget how wide her eyes got when she first saw the ocean. I thought there was nowhere to go but up. I was wrong.
DOWN AND OUT
In early 2014, while pursuing my bachelor's, my financial aid ran out and I couldn't continue school. Since my housing was based on attending school, my daughter and I were kicked out. We didn't have anywhere to go. We bounced around from friends to shelters for a while. Then a friend helped me rent an efficiency apartment. But the place was infested, everyone in the building was smoking crack and there was violence all the time.
So I moved to the hotel. even at $50 a night it was a lot nicer than the apartment. That's when the first social worker visited.
THE BIG GRAY AREA
After she left, I packed up my stuff and took my daughter to my hometown in Fleming County, an hour and a half away, for the summer break. We stayed with my best friend Tina, who was more like my sister. In fact, I'd agreed to be her surrogate and was a month pregnant with her child.
I worked and saved some money, and we moved back to Lexington before school. I got a nice apartment and found a roommate to split the bills. Things were looking up. my daughter was in a new school, I got a part-time job and we had a roof over our heads. That's when they took my child.
When I explained my struggles to the worker, she assured me that my issues could be fixed and that my daughter and I would be reunited. It seemed black and white. But once you're in the system, you realize that there's a big gray area.
CASE PLANS, COURTROOMS AND CHAOS
After my daughter was taken, I was required to attend weekly substance abuse classes and was subjected to random drug testing each week. I also had to have my own residence, maintain employment, visit with my daughter and pay child support to the foster care system.
Because my world crumbled when they took my daughter, I moved back to Tina's. It was good; I had support. A few weeks later, friends helped me with money to get a new place with a yard. My daughter would have her own room.
But living in Fleming also made things harder, since all my services were in Lexington. Every morning I had to call to find out if I needed to test, and I didn't have a vehicle to get to Lexington. My lawyer and I repeatedly asked that my case be transferred to the town I resided in, but instead, they assigned me a "courtesy worker" to check on my progress.
FINALLY, A VISIT
On November 19, almost three months after my daughter was taken, we had our first visit.
It was wonderful. I was happy and relieved that she was OK.
We laughed and did our hair and makeup. I gave her gifts and a note explaining that I was doing everything I had to do to get her back. She hugged me tight and said she wanted to come home.
Eight days later, we had our second visit. The caseworker reported that both visits had gone well. But on December 3, on the way to my third visit, my worker informed me that my visits had been suspended. I thought my attorney would immediately request a court hearing, but he didn't. It wasn't until our next scheduled hearing, about three months later, that it was brought up.
At that hearing, the caseworker painted a picture of me as a junkie, a neglectful mother who didn't care about seeing her child. She said I was avoiding drug tests and wasn't complying with my service plan. She also informed the court— and me—that my visits had been suspended because I was being investigated for sexually abusing my daughter. (That was eventually proved false.)
She asked that my visits be terminated. The judge sided with her.
If I hadn't lived this myself, I would never believe it was possible.
SET UP TO FAIL
For the next five months, I worked my case plan and tried to stabilize my life. It felt like I was always being punished. As soon as I would get close to completing my services, I was knocked down. Domestic violence was never an issue in my life, yet DV classes were thrown into my plan.
Through all the madness, all I could think about was my daughter. She didn't know if I was dead or alive, or if I just forgot about her.
Then in August 2016, almost a year after my daughter was taken, the caseworker changed the goal from reunification to adoption. I was taking too long to finish my service plan.
She also told me that I would have a better chance of seeing my daughter if I moved back to Lexington for drug tests, so I gave up my home and moved.
For weeks I was broke, homeless and hungry. I bounced around and walked up and down the streets because I had nowhere to go. I took a third shift job at McDonald's, but even after three months, my visits were never reinstated.
ABOUT TO BREAK
So much was on my shoulders that I was going to break. I just couldn't do it alone anymore. I went back to Fleming, got a job and lived with my on-and-off boyfriend. I'd known him since high school and he had a nice two- bedroom house. I thought it would be best for my daughter's stability and my sobriety. I was clean and wanted to stay that way.
Six months later, on May 5, 2017, I had a termination of parental rights hearing. My attorney and I were hopeful because that's when the sexual abuse claim was finally found unsubstantiated.
That hope vanished when the caseworker reported that I was, "living with a male suitor" and could not provide stable housing for my daughter or provide financially.
I couldn't win. I had to have adequate housing and be able to support my child without help. But I made $7.25 an hour and I might get 20 hours a week. My check was garnished $86.34 for child support to pay for my daughter in foster care. So I was left with like $50. It was an endless cycle.
WRONG AGAIN
Obstacles aside, I believed I would get my daughter back and I continued working hard to make that happen. I left my boyfriend's house and moved into a shelter. They helped me find a place and paid part of the deposit. I also stayed sober—my drug tests proved that I was not using. I worked my case plan and even took extra parenting classes. My courtesy worker was able to confirm my progress and sign off on everything I was doing.
I thought my daughter would soon start visiting and come home.
I was wrong, again.
Two months later, I received a letter telling me it was over. I was devastated.
They stole my daughter and demonized me. All because I hit a rough patch.
EDGE OF THE EARTH
Since then, I've felt helpless. Memories of my daughter ash through my head, her laughter, her hugs. I hear myself screaming in anger and I drop to my knees bawling. She's gone.
I'm not waving the white flag, though. My attorney filed a motion to vacate the decision and I was granted a "supplemental TPR hearing" on November 28, where I will be allowed to provide evidence that I complied with my service plan, am clean and sober, and am capable of raising my child.
I have no idea what will happen and I am a nervous wreck. But I will go to the edge of the earth to fight for my daughter.