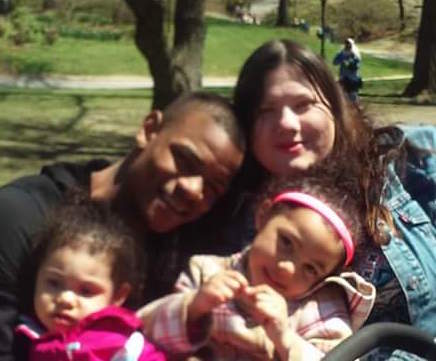 ALL OVER THE PLACE
While I was pregnant with Harmony, I felt very confused about what would happen when she was born. In some ways, I prepared for Harmony's arrival. I read up on healthy parenting and how to encourage positive sibling relationships. I explained to Ana that she was going to have a sister. I let her feel kicks as Harmony got bigger.
But it's painful to look back and realize how hectic my life was when I had Harmony. I'd been bouncing around since I left foster care. I was living with an abusive man and only halfway doing the services to get Ana back. I didn't see then that I was all over the place.
CHOKING UP
I delivered Harmony on April 18, 2013. She was very chunky with big, rosy cheeks, and unlike Ana, she was bald! All I wanted to do was get us home so I could hold her and dress her up in all the pink outfits I had bought her. But two days after giving birth, I learned I had to leave her in the hospital to go to a conference.
It broke my heart leaving Harmony in that empty nursery. Outside, I sobbed and didn't care that everyone was staring. It was frightening to have to prove myself to workers who knew nothing about me except what documents I could provide.
I was lucky that my case worker from GEMS, a youth advocacy organization I am a part of, stood by my side. That let the workers see the good in me, and they allowed me to take Harmony home. A short time later, though, I lost Harmony to foster care because I was still in a violent relationship.
'YOU NEED TO BE SERIOUS'
A year later, when I became pregnant with my son, my best friend grabbed me by the shoulders and told me, "I love you. You're crazy for wanting to go through all this again but if you are, you need to be serious about it this time."
I listened to her.
This time, I was no longer in an abusive relationship. Jeremiah's father, Shaka, is a very wonderful, supportive man. He was genuinely excited about getting ready for our baby, and he fought right alongside me to visit my daughters.
I also enrolled in preventive services and began working with a case manager who helped me connect to supports, like prenatal care. I collected every document from every appointment I attended so I could bring them to the Child Safety Conference to show how much I'd accomplished.
PREPARED FOR PARENTING
With Jeremiah, I was in labor for 36 hours. He came out with one eye open. He looked like someone had woken him up from a very good nap. He was so pale but had a mop of black, curly hair.
When a child welfare worker alerted Shaka and me about the conference, I had my fears, of course. Shaka was beside himself with anxiety. This time, though, we were prepared!
The meeting went unbelievably smoothly. The conference included the facilitator, my new CPS worker, her supervisor, my foster care case planner, my caseworker from GEMS, and my social worker from Brooklyn Defender Services, which represents me with my two daughters.
 STRENGTHS, CONCERNS, SUPPORTS
On a board they wrote down three columns: Strengths, Concerns and Supports. In the strengths column, Shaka and I listed how we utilize our support system, how we had taken parenting classes and how we aimed to maintain a stable environment that Jeremiah would thrive in. Pretty soon our strengths filled up the whole column!
Next up were the Concerns. The concerns were that my husband and I both had a history of mental illness, and that my two older daughters were still in foster care.
Under Supports, we listed all the organizations that we were affiliated with and the resources we utilized. The ACS worker and her supervisor were impressed and proudly declared there wasn't a doubt Jeremiah should be going home with us. I was so happy!
In that meeting, I learned that I had built a support system and had grown up a lot. I've proved it since then by keeping my son safe at home.
STRUGGLING BUT OPTIMISTIC
Now it's almost a full year later. Miah, as we call him, has grown from a little guy with the silliest faces to a handsome little big man who loves screaming out "Momma" or "Dadada!" and is trying so hard to run all over.
We're still fighting to get my daughters home from foster care. I face a lot of discouragement. When I think back to how I was able to bring Miah home, though, I'm reminded of how hard I can work, how I can persevere, and how to be a positive role model for my children, despite all the struggles I've faced.