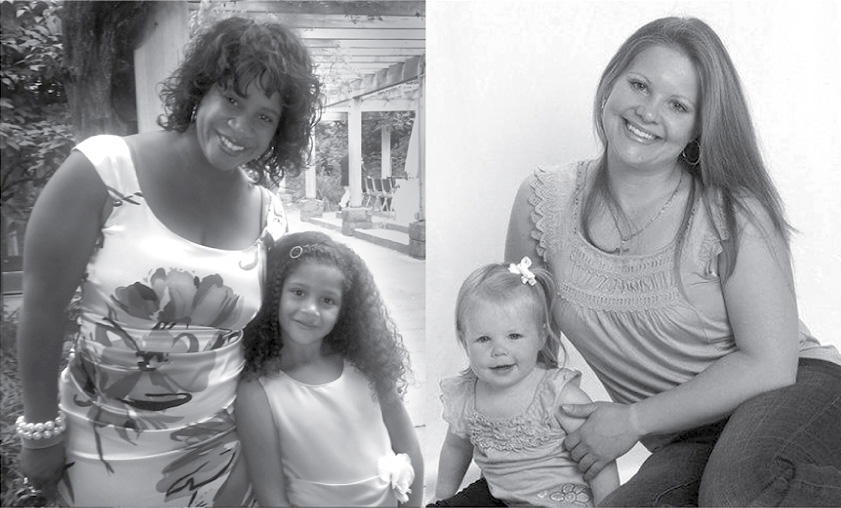 My child welfare story (Shrounda) began when I moved into a neighborhood high in drug use and poverty. I was an African-American woman in my mid-30s, married with two children. I was arrogant—I thought I could control my drug use and that my surroundings wouldn't affect me. Instead I found myself in the depth of an ever-evolving addiction. I went from using alcohol and cocaine to using crack daily. I desired so much out of life but my drug use eroded my motivation and my commitment to succeed.
My addiction lasted for 8 years. During that time, my husband and I divorced; my younger son went to live with his father while my older son moved in with a friend's family. Then, in 2007, when I gave birth to my third child, child protective services were immediately called in and they took my daughter from me.
At first I did not feel the despair. Drugs and alcohol numbed me to the life-changing event. My addiction also led me to cut myself off from whatever services the system offered. For a year, I missed appointments and had only sporadic interactions with the department, the foster family and my daughter.
Undeserving in Their Eyes
But I also believe the system was not sincere in wanting to help me. In a meeting I attended to decide my daughter's future, her foster mother asked: "How could you return the child to someone like her?" I found out later that the social worker told the foster family that I had little hope of reunification with my daughter.
I felt those judgments, and they incubated into self-doubt and self-loathing. I felt like a statistic moving through the system rather than a person making human connections. The report on paper outlined a deplorable woman. In truth, neither the system nor I knew who I really was or who I might turn out to be.
Luckily, I did have the support of my family and lawyer. Eventually, I also found support from remarkable counselors, employers and friends. Each one, in my darkest hour, held the candle, allowing me to see a different picture of me and a different possibility for my life.
After a year of non-compliance, it took me another year and four months to reunify with my daughter. But even after I'd made so many changes, my daughter's foster family was still appalled. While I truly believe they loved my daughter, I think the stereotype they saw in me made it hard for them to see me as anything other than undeserving.
'Unlikely to Ever Change'
I (Alise) first became involved with the child welfare system as a 25-year-old White woman. I spent most of my life in darkness and utter chaos; an existence comprised of poor choices, low self-worth and inadequate coping mechanisms, including drug use. When I gave birth to my daughter, she was immediately placed in foster care, partly due to the 7-year prison sentence I was facing for committing property crimes to fuel my addiction.
I was blessed with the opportunity to go to treatment instead of prison through Drug Offenders Sentencing Alternatives, a statewide program for people charged with drug crimes. It is an opportunity many judges might not have offered me, given the multiple property-related felonies I'd been convicted of. But my judge decided I would never have committed those crimes if it weren't for my addiction.
Still, during the first 11 months, I received no visits with my daughter. My caseworker said in court that it was unlikely I was ever going to change and the best outcome would be to allow my daughter to be adopted. When I heard that, I was terrified—and my belief that I was worthless penetrated to the core of my being.
Fortunately, I, too, had support—from my mother, my attorney and the social worker in my attorney's office. It was their uplifting messages that allowed me to believe I could be the parent and advocate I've become. Once I began having visits with my daughter, I was able to reunify with her in just four months.
The Color of Hope
For both of us, Shrounda and Alise, Black and White, it was the power of people inside and outside the system who truly believed in us that allowed us to see ourselves as more than drug-addicted bad mothers and overcome. We are now both employed as parent advocates in Washington State, at the advocacy organization Catalyst for Kids (Alise) and Evergreen Manor Inpatient Treatment (Shrounda). We also volunteer on many committees aimed at making the child welfare system a more supportive place for families. What the research suggests, however, and what we've seen, is that race plays a role in whether parents and children find the support that allows them to succeed.
The differences start before parents come to the attention of the child welfare system. In poor neighborhoods of color, most parents see child protective services as the people who come to take your kids and nothing else. Many parents are too afraid of losing their kids to ask for help.
Once parents are in the system, their lives are in the hands of caseworkers who are over-burdened and under-supported. Research has found that parents of color receive fewer contacts by their caseworkers, and fewer and lower quality mental health and drug treatment services as well.
The Color of Trust
Race can also make it harder for parents of color to trust the system.
When I (Shrounda) would visit my daughter in my agency's visiting room, seeing so many Black families like mine added to the shame I already felt. Visits are supposed to be an opportunity to bond with your child. But visiting rooms are often such depressing places they almost seem designed to add to parents' self-loathing. When I visited my daughter, I felt segregated, discriminated against, and inadequate.
Recently, I (Alise) was mentoring an African-American parent who said, "My social worker can't stand me because I'm Black." The parent had witnessed the social worker being nice to a White family, but consistently dismissive to her. Neither the parent nor I knew whether the difference in attitude was because of race. But the parent's perception of racism added to the tension that existed between them.
All these differences add up to grave consequences, according to statistics compiled by Casey Family Programs. In 2012, a Black child was nearly twice as likely to enter foster care as a White child, while a Native American child was almost two and half times more likely to enter care. Once Black and Native American children are in care, they stay there longer and experience more placements. They also go home or get adopted less often.
In 2012, Black children made up 22% of children entering foster care but 35% of children who aged out of the system. While 8% of White children who entered foster care before the age of 3 aged out without ever finding a permanent home, 14% of Native American children and 17% of Black children did. That means that one in every six Black babies that enters foster care spends almost their entire childhood there.
When I (Alise) was navigating the system, I never thought that my skin color might contribute to the success I eventually had. I still believe that a higher power moved mountains to allow me to reunify with my daughter. But today I also know that, statistically speaking, the fact that I'm White made it more likely that I would get the breaks I needed.
Documenting Disproportionality
In the last 10 years, some systems have started tracking the numbers of children of color in foster care and making changes.
In 2002, in our home state of Washington, Black social workers in King County (which includes Seattle) worked on their own time to gather data to demonstrate that children of color went into care in higher numbers and stayed in care longer as well.
In 2004, the King County Coalition on Racial Disproportionality published the first data showing that a Black child in King Country was three times more likely to be in foster care than a White child, while a Native-American child was approximately eight times more likely to be in care.
Then, in 2007, the Washington State Legislature established the Washington State Racial Disproportionality Advisory Committee. I (Shrounda) am a member of this committee.
Working for Change
One of the first steps the committee took was to develop a tool that asks agencies to consider the impact its policies might have on people of color and includes such questions as: "Were there representatives of different racial groups at the table in development of this policy?" Washington State's Children's Administration has recently begun to use this tool to analyze its policies.
One change it has made as a result is in the criminal background check relatives have to pass in order to care for their kin. The Administration realized these background checks prevented many children of color from being raised by family, even though past convictions were sometimes decades old. Ultimately, our state legislature significantly reduced the list of crimes that barred people from ever having a child placed in their care.