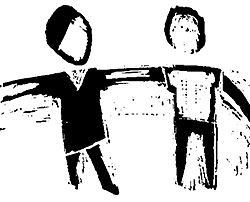 As a parent advocate working in the child welfare system, I have seen cases where a little assistance in fixing housing repairs or helping a mother take out an order of protection could've kept a child safe. The problem is that poor parents can't afford lawyers. That contributes to children of color coming into foster care, since they're more likely to be living in poverty. Now, programs in Vermont, Washington, D.C., and Michigan are providing "preventive legal advocacy"— legal services to prevent the need for removal, as documented in the Center for the Study of Social Policy report "Case Closed."
Here, Detroit Center for Family Advocacy Director Vivek Sankaran and Parent Advocate Nancy Colon explain the impact of preventive legal representation:
Vivek: Before children enter foster care, parents have no right to an attorney. But at times the help families need to improve child safety is legal representation. For instance, the condition of a parent's house may be unsafe for a child, but if you look at the circumstances, it's the landlord not meeting his responsibility to maintain the housing. A wealthier family might take the landlord to court, but poor families can't afford it, and what you find is that the landlords are perfectly content to take advantage. By taking the landlord to court, you can keep the child safe at home. We'll take on any legal issue that affects child safety if it will eliminate the need for a child to enter foster care.
Nancy: Recently we worked with an African-American single dad who was trying to get custody of his son. The mom was dealing with substances. We received a referral from the Department of Human Services (DHS) worker, who wanted us to help with the custody court process so the kid didn't go into foster care.
The issue is that the court system is so difficult to navigate. This father could have attempted to file for custody on his own but he had a disability and his speech was hard to understand. You get to court and one person tells you this, and another person tells you that—it's a maze. On top of that, our families cannot afford the fees. This father was receiving food stamps and cash assistance, so we applied for a waiver, but that would've been difficult for him to do on his own.
Beyond filing for custody, we also helped him stabilize his housing, which was in jeopardy because of some paperwork. After a couple long weeks of advocacy, we prevented him from losing his home. We also helped him set up child care and found him a support group. Now he's been taking care of his 3-year-old for six months.
Vivek: We also help relatives resolve legal issues to get children out of foster care. Relatives of children in foster care don't have a right to legal representation but may need it.
Nancy: We had a grandmother who had warrants for her arrest, all related to traffic violations. She knew she didn't have the money to pay the tickets, so she was ignoring the situation to make it go away. But then, all of a sudden, her son got in trouble and child protective services got involved. Grandma had to step in. She needed to clear those warrants to adopt her grandchildren but paying the fines was a huge barrier.
One of our attorneys went from court to court to find out what she owed and helped her go before the judge to say, "Your honor, I didn't have the money and I didn't know I could talk to you to try to make a payment plan." She was able to pay a low, low fee and do some community work to take care of those fines.
Little things can turn into nightmares and you have kids in the middle of it. These kids would've been removed from her home if not for legal advocacy.
Vivek: Now we have a very collaborative relationship with the child welfare agency, the Department of Human Services. We educate their staff about our model every four months.
We know that preventive legal advocacy makes a difference. We did a three-year evaluation and found that, in our prevention project, none of the kids entered the formal foster care system. We keep kids with their families and save the system thousands of dollars.
We also know that this model has an impact on African-American families. Detroit is predominantly African-American, and every disproportionality report I've seen is about the need to increase resources for African-American families, including legal resources. For roughly every 13,000 people in poverty, there's one legal aid lawyer. Legal aid programs reject close to 1 million cases each year.
The problem is that we rely a lot on private funding, and that is not the easiest way of keeping things afloat. Now we're trying to persuade governments to provide this. We hope that, because legal representation reduces costs to the system, it could become integrated into how child welfare works. It's a preventive service, just like parenting classes and therapy, to prevent poor kids from coming into foster care.
To learn more about preventive legal strategies, read "Case Closed: Addressing Unmet Legal Needs and Stabilizing Families" from the Center for the Study of Social Policy.