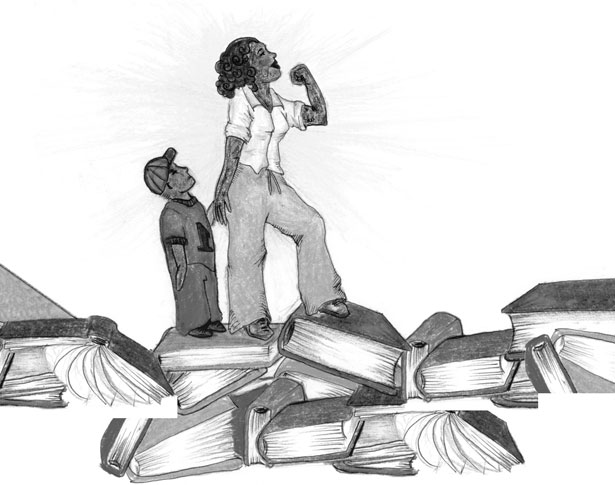 About 7 p.m. there was a knock on the door. I was afraid I already knew who it was and that my family was in trouble.
The problems started when my son was 10 years old and his grandfather died. His grandfather was more like a father to him than his own father. Many times when my son would visit their house, his father wouldn't be there, but his grandfather was, and they'd sit and talk and have fun.
Anger in his Eyes
Before his grandfather died, my son was basically well-behaved. After, he had so many questions, like, "Where do people go when they die?" I could see the anger in his eyes and hear the fear in his voice. I believe his feelings were even stronger because losing his grandfather brought up the sad feelings he had about his father not being around.
My son began to retaliate against his father, me and just life itself. He was getting in trouble just about every day in school. He wasn't working and he was being disruptive. I was running to the school so often that I had to quit my job. I felt so frustrated, I didn't know what to do.
Eventually I started to hit him, even though I don't believe in hitting kids. One night I hit him with a belt because his teacher had called to say he had cursed in class. He screamed so loud when I hit him that I stopped, but the damage was already done. The next day the school informed me that they had found bruises on my son's body. ACS came that night.
'We Received a Call'
When I answered the door, there was a social worker there named Mrs. R., her assistant, and a police officer. They said they wanted to ask me a few questions.
Mrs. R. handed me a paper and asked to see my children. (I also have a daughter.) She said, "We received a call from your school that your son had bruises on his arm and upper thigh." Mrs. R. insisted that I lift my children's clothing. When I did not comply, Mrs. R. asked her assistant to lift them and then she took pictures of the bruises on my son's left arm and thigh. Then she told me my children were being removed.
As they left my house, I felt like a piece of my heart was being ripped out.
'My Children Need Me'
After my children were taken, I went through terrible pressure and depression, not knowing whether my children were safe. I could not eat or sleep many days and nights.
I felt so much anger. I'd often ask myself why ACS couldn't help while my children were home. "My children need and want to be with me," I'd think. "If you're helping us, then help us together. I'll do whatever it takes, you can still make your home visits, every day if you'd like. Just please release my children to me."
Emotions Running Wild
Then there was the anger that I felt toward myself. Growing up, my mother would often hit me with belts and even extension cords. Sometimes her anger was out of control. I felt mistreated and misunderstood, and I would rarely speak to my mother even though what I was looking for was guidance, acceptance, attention and a way out from the madness and the pressures that I felt as a child.
When I gave birth to my son, I vowed that I would never hit my children the way my mother hit me.
But when my son's behavior got so bad, I was angry and desperate and I just wanted to do something to stop it. I knew how I acted after my mom hit me—I was so hurt and afraid of another beating that I'd stop doing whatever it was I just got hit for. I thought a beating would make my son stop, too.
I never imagined it would mean I would lose my kids. I was so angry at myself because my children had to suffer for what I'd done. I cried myself to sleep many nights. My emotions were really running wild because I loved my kids so much and it hurt so much to lose them.
Starting to Cooperate
For the first couple of months, my anger kept me from doing what the system told me I needed to do. I wasn't going to counseling because I felt I didn't need it. Whenever I went to see the caseworker, I wasn't cooperative because I just wanted to smack her.
But after a few months of rebelling, I realized that I couldn't let that continue because there was too much at stake—my children. The longer it took me to get proper visits with them, the harder it was going to be to get them back permanently.
So I prayed, I read the Bible, I told myself again and again to calm down. I forced myself to get my emotions under control. I also decided that if I was going to change my situation, I couldn't just depend on my caseworker or my lawyer. I would have to learn what I could about the system myself.
I Was in Control
I went to the library and the librarian gave me The Family Act Book, a very thick blue book with information about the system. It said I had the right to visit my children, the right to be a part of making decisions about their medical care and education. It said I could even attend parent-teacher conferences.
I wrote the information down in a notebook. With that knowledge, I would go to meetings at the agency or ACS and I would quote different sections of the book. I wanted them to think I had real power behind me, so when they asked me where I got my information from, I'd lie and say that I had my own lawyer. I spoke calmly but firmly and I carried myself in a way that let them know I was in control.
Many times I had to hold back tears, anger, frustration that felt like a ball of fire. Inside I often felt hot and furious. But I thought about ice, snow and winter to calm me down. I controlled my temper, and it paid off.
A Person, Not a Case
The agency began to look at me as a person, not as a caseload and docket number. It helped, too, that I began to comply more fully with their requirements. I went to therapy and I completed two parenting skills classes. I also began working at the Child Welfare Organizing Project, where parents who have children in the system advocate to improve how the system treats parents.
Because of all that, I gained permission to take my children to school every day. I took them to doctors' appointments and therapy, too. Eventually I was allowed to spend time with them on the weekends.
Accepting My Son's Ways
Soon I realized that I had to calm down, not only with the system but with my son, too. For a while after my son went into care, he had even more problems than he'd had before. His behavior in school grew worse and he didn't want to do any work at all. He was probably sad and mad that he'd been taken from me.
I was frustrated but I told myself that all I could do was talk to him. I just told him over and over how important school is and that I'd gone to school too. Maybe because I was calmer, he began to respond a little better to me. I also think his therapist helped him. Sometimes I felt uncomfortable with her—I felt like she was judging me—but my son liked her.
One day my son said to me, "Mommy, you're always telling me what to do." He said, "Ma, I would feel better if you said, 'Just try to do it.'" When he said that I realized that maybe I was too demanding and I had to accept that my son had ways of his own.
Help Us at Home
Still, there were limits to how much I could do until I finally was given a caseworker who really worked with me. I've had three caseworkers during the two years my children have been in care. The first two never once made a home visit.
A few months ago, I was given my third caseworker and she's beautiful. I almost love her. She saw how hard I was trying, and she gave me weekend and overnight visits. I appreciate that she acts like she trusts me and cares about my children and me.
Soon my two children will be released into my care full time. I have some worries how long it will take my children to get used to being home. Sometimes my son and I still have our turbulences. But he and I have grown and our relationship has improved.
Looking back, I did need help with my son because I felt out of control and that was affecting my relationship with him. But I don't believe that my children needed to be taken from me. I wish that I had been given help while my children were still with me instead of having them thrown into the system.
Philneia's children are now home and she is working as a parent advocate with ACS.