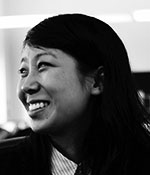 I'm a journalist at AL-Jazeera America. I learned about Rise in the course of doing research on child welfare a couple years ago and I've been reading it ever since.
As a journalist writing about child welfare in New York City, Rise is a critical resource. The other things you read in this field are written by policy people and so-called experts, but it's rare to get the perspective of folks who are directly affected. Rise provides those perspectives written in a direct and genuine manner. That makes it an essential source of information.
So many articles in Rise contradict people's understandings of child welfare processes. One story that stands out to me is Carmen Caban's piece, "A Way Out of No Way," about her relationship with her daughter, which continued for many, many years after Carmen's rights were terminated. Normally you think that if there's a termination, the parent wouldn't have a relationship with the child anymore. Her story says, "We do and it is difficult and we keep trying."
Another issue that I learned from was about parents' experiences with their lawyers. Before I became a journalist, I was a lawyer at Urban Justice Center. I saw in that issue that some parents, like Nancy, had lawyers who did not support them in the process, but others, like Pia, were able to have a good experience. The whole range of experiences in that issue was wise and got beyond the stereotypes of the lawyer-client relationship
There's a lot of emotion in the stories in Rise. As a reader, I'm interested in the topics that are covered, but it's the raw feelings that educate me. I can tell that the stories are written in a cooperative workshop environment because there's a lot of comfort and voice that comes out. That's a good experience as a reader.
As a reporter, thinking about this system that is so invasive in going into people's lives, it's very affecting to get the experiences of people who survived the system. Right now I'm writing about labor and poverty issues, and one thing I know from Rise is that many people have to go through programs that they don't find effective. As I learn more about career pathways and job training to move people out of poverty, I'm keeping that in mind.