Last April, my son was placed in foster care from his mother's custody. Knowing how some foster parents can be, I worried that my son might be mistreated in the system. My son had been staying with me on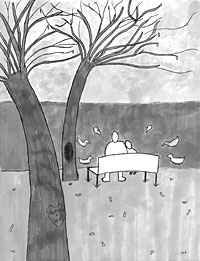 weekends, so I asked the judge if I could take my son, but the system did not approve of my apartment. They said I couldn't bring him home.
But they allowed my mother to take him. At least I could see him often.
My son has been in foster care with my mother for a year now because his mother has to complete parenting classes and other requirements. I've helped my son by being there for him physically and mentally. I wake up at 5:30 every morning so I can go to my mom's and get him ready for school. Then I go to my part-time job and by 2:30 p.m. I'm at his school to pick him up.
Back at my mother's house, we do his homework and, if the weather permits, we go outside to a park. My favorite is Central Park because we get to feed the ducks. It's also his favorite because we take the subway.
It makes all the difference that my son was placed with family. Even though he is not living with his mother or with me, he is safe and he sees us often.
In the last few months, with the court's permission, I've started bringing my son's mother up to visit him at my mom's house. Soon my son will go home to his mother. I can't wait for that moment. He misses his mom and he belongs with her. But I'm grateful that, even though he was in foster care, my son was with family.
From Rights to Reality
A plan for parent advocacy and family-centered child welfare reform
From Rights to Reality is designed to unite parents and parent advocacy around a common set of goals. It identifies 15 rights for parents affected by the child welfare system. Most parents do not yet have these rights in child welfare proceedings. From Rights to Reality represents a commitment to working in our communities and nationwide to make these rights a reality.
Click below to learn more about each of the 15 parent rights. Read the introduction here. Clickhere to download From Rights to Reality.